Oat and pineapple crumble
(for 4 people)
2 cups of pineapple, peeled and diced
3 tablespoons of brown sugar
1 tablespoon of cornstarch
1 teaspoon cinnamon powder
2 tablespoons of water
For the crumble:
3/4 cup of Bellini oatmeal
2 tablespoons of Bellini instant oatmeal
3 tablespoons of brown sugar
1/2 teaspoon cinnamon powder
4 tablespoons unsalted butter, cut into small pieces
Vanilla ice cream to accompany
The benefits of oats are endless
Pearl barley risotto with chorizo by Catalba
(For 4 portions approx.)
4 sliced chorizos.
1 big-headed onion, finely chopped.
2 cloves of garlic, finely chopped
300 g of pearlized barley from the crop 
3 finely chopped tomatoes.
1 liter of vegetable or chicken broth.
1 teaspoon of finely chopped rosemary
4 tablespoons of Parmesan cheese.
2 tablespoons of butter.
1 tablespoon of vegetable oil.
salt and pepper to taste
1. In a large pot add a little olive or vegetable oil and 1 each of butter. When melted, blanch 1 big-headed onion and 2 finely chopped garlic cloves without burning them and until they become transparent. Add 300 g of pearl barley from the crop (previously soaked for 1 hour and drained), stir and cook for 3 minutes.
2. Add 2 ladles of chicken or vegetable broth (you will need 1 liter for 4 servings), stir and when it starts to evaporate add one more ladle. Add 2 chopped tomatoes, another bottom ladle and cook over medium heat, stirring occasionally.
3. Separately, brown 4 sliced chorizos in a frying pan lightly smeared with oil. When they become colored, add 1 cup of cooked chickpeas and sauté for a couple of minutes. Set aside.
4. Season the barley with salt and pepper to taste and a little rosemary. You can also use oregano or thyme and continue to add the base little by little until it is finished.
5. Let it cook until you feel the barley grains "al dente", i.e. slightly soft to bite but not too soft.
6. Turn off the heat, add the other tablespoon of butter and 4 tablespoons of Parmesan cheese, mix, cover and let stand.
Cook with Bellini!
Closer and closer to our origins
We use ancient grains with current recipes.
Wheat spoon with spine by Catalba
What you cook to feel the daddy close: wheat knife with a spine.
There are recipes that have a very special place in the heart.
Mine is the wheat knife with a spine. I carry it in my heart because it reminds me of one of the happiest moments when I was a little girl.
My father, who was born in Bogotá, used to travel a lot and every time he returned from one of his trips, we would go out to eat at his favorite restaurant: El piqueteadero Cundinamarca.
A corner of Cundinamarca's cuisine in Cali where we could not only enjoy the delights of his land but also help us fall in love with his culture and gastronomy.
The cuchuco was the king of the place and ours was love at first sight.
It is a succulent dish, full of flavor and nutrients and what better than it to honor my father in his day.
This weekend I prepared it thinking about him and it was so delicious that I want to share the recipe so that you can dare to prepare it at home and discover the richness of our ancestral cuisine.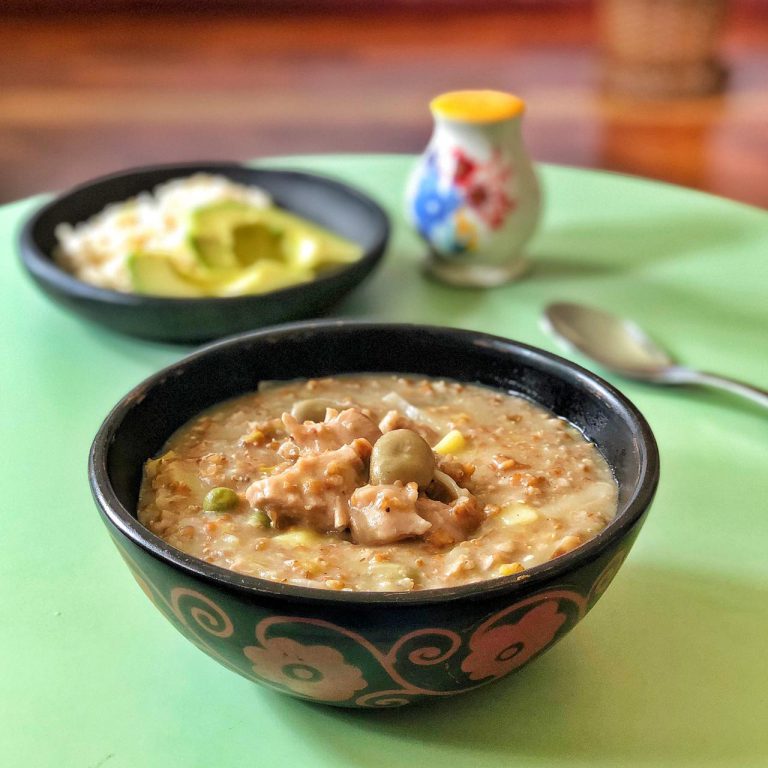 (For 4 portions approx.)
1/2 pound of pork backbone with tenderloin
5 cups of water
200 g of Cultivated Wheat Spoon
2 savannah potatoes
half a pound of creole potato
1/2 cup of peas
1/2 cup of beans
2 long onion stems
1 garlic clove
1/2 cup chopped cabbage
salt
Soak 200g of wheat spoon in water for 1 hour. Drain and set aside. I use @bellinicolombia's

2. In a large pot add 6 cups of water, 1/2 pound of backbone with some pieces of pork loin, the previously soaked cuchuco, 2 whole long onion stems and 2 cloves of garlic. Bring to a medium heat and cook for 30 minutes.

3. After this time, remove the pig from the pot, cut it into pieces or remove as much as you can from the bone and set aside.

4. Add to the pot 1/2 pound of small Creole potatoes and 2 skinless savannah potatoes cut into small squares, 1/2 cup of fresh peas, 1/2 cup of fresh beans and 1/2 cup of cabbage cut into strips. Some also put green beans in but I skip them.

5. Let cook for 10 minutes, add the meat back to the pot, salt to taste and let cook for 30-40 minutes more over low heat or until thick and all the vegetables are soft.

6. Serve with rice and avocado.
prepares the most incredible recipes
Always with our unique brands.
(For 5 portions approx.)
3 cups Megarepa® pre-cooked corn masa flour
3 cups chicken or chicken broth
Stew: oil, chopped long onion, tomato, garlic, salt, pepper, thyme, bay leaf.
1 cup ground beef
4 creole potatoes, peeled and sweaty
Ají to serve
Prepare the dough for the empanadas with the 3 cups of Megarepa® flour and the 3 cups of hot broth, knead when it is cold: if you wish you can add a teaspoon of color to the broth.
The stew is also prepared with the oil, onion, tomato, garlic, salt and condiments.
Sauté onion and tomato. Add meat and stir to prevent sticking.
At the end the sweaty creole potatoes made naco or puree are added. Assemble the empanadas by placing a tablespoon of filling.
They are covered and sealed with a "tris" (a few drops) of water. Fry the empanadas in hot oil to serve them with slices of lemon and chili.
(For 24 portions approx.)
½ kilo of margarine
2 cups brown sugar
4 or 5 eggs
4 teaspoons baking powder
1 kilo of Bellini® Corn Flour, pre-cooked
2 teaspoons ground cinnamon, or to taste
Preheat oven to 170° Celsius.
Grease and flare a large baking sheet.
Beat the margarine until it sponges. Stir in the sugar and continue to beat, adding 4 eggs one by one.
Gradually add the baking powder and most of the Bellini® Corn Flour.
When the dough has formed, place it on the work table and knead it with the rest of the flour and cinnamon until you obtain a smooth, compact dough that does not stick to the work table or your hands. (If dough crumbles, add 1 more egg.)
Form 5-centimeter diameter rolls and cut them into 1-centimeter thick slices. Place on separate trays and bake until cookies are cooked and lightly browned, 12 to 14 minutes.
(For approx. 6 servings)
For the arepas:
1 cup Bellini® Yellow Corn Precooked Flour
1 cup warm water or milk
Butter or margarine
Salt to taste
You can add grated mozzarella cheese.
For the hogao:
1 pound ripe tomato
2 medium head onions
2 long onions
3 cloves of garlic
3 tablespoons oil
Salt, pepper and cumin to taste.
For the arepas:
To make the arepas, mix Bellini® Yellow Corn Precooked Flour with the cheese.
Add water or milk and stir.
Add salt and margarine or butter to taste.
Mix well and knead until a smooth, uniform paste is formed.
Let stand for 5 minutes.
Assemble the arepas, depending on the size and thickness you will get more or less arepas.
Fry in oil or grill over low heat.
To prepare the hogao:
Heat the oil.
First add the head onion and the long onion, both chopped, along with the garlic.
Sauté until they become "transparent", be careful not to let them burn.
Add the tomato that must be peeled and scratched or finely chopped, it must then be a paste, stir gently with wooden spoon and add salt and other condiments to taste, trying to find the optimal point.
Serve the arepas still hot, with enough hogao on top and accompany with chocolate or coffee; you can also accompany a main course with this delicious preparation.
We are looking for the best content for you to enjoy cooking.
Follow us on our networks